Concept Plan for the Agricultural Development Program for the Diocese in Butare in Rwanda[1] .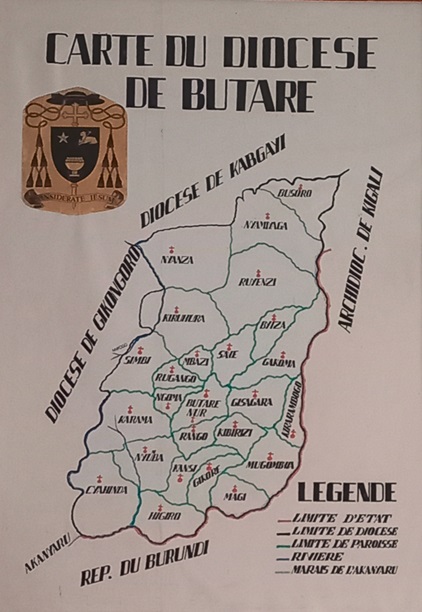 Image1: Map of Butare Diocese Coverage.
The population in Rwanda is steadily increasing with about 13.2 million[1] people yet food security remains a threat to many locals. Butare[2] diocese consists of people of concern, resettled citizens, and the highest number of institutions who barely have sizable land to cultivate their own food for consumption and commercial benefit. Even more, the available land given to the poor lies in the lowlands, a potential threat to adverse climate change effects like floods and prolonged drought. School Feeding also lingers where some primary schools fail to provide a day' meal as evidenced at a random visit. However, It is important to note that nutritiously rich food is critical to a quality life, quality health and overly a right for every citizen.
Therefore, the leadership of Butare Diocese seeks boost agricultural productivity through the adoption of modern Agricultural methods to maximize available land and small spaces so as to address issues of food insecurities, poor nutrition, population idleness, women, men and youth unemployment and poverty. Our efforts shall cumulatively contribute to the Rwanda National Development Vision 2050 (2021-2050) whose pillars focus on 'Human development, and agriculture for wealth creation. Ultimately, all these efforts shall feed into the International Sustainable Development goals: SDG- 1- End poverty, SDG-2- End Hunger, SDG- 3- good health and wellbeing and SDG-8 and SDGs- 17 for efficient planning and implementation.
Introduction:
The Catholic Diocese of Butare constitutes churches, schools, health centers, hospitals, and universities in Huye, Gisagara, Nyanza, and Nyaruguru districts. One of the diocese's leadership mandate is to ensure food security, employment and improved livelihood for all through boosting agriculture production with modern techniques. This region consists of a diverse group of people like the resttled citizens from exile (Uganda, Burundi, Congo), and elsewhere without land, genocide survivors and individuals with landslide challenges due to climate change effects.
To an extent, the government of Rwanda has addressed issues of food securities through a number of initiatives so as reduce child malnutrition rates and increase household incomes of poor farmers. Such initiatives include: (i) the one cow for one family called gira inka munyarwanda. Here, every one cow brings nutrition, sustenance and employment, and provides a stable income for a family and is a source of soil nutrients via manure to assist small scale cropping activity; (ii) land consolidation for farming spaces,(iii) day school feeding, (iv) elderly fund , and these initiatives are key to human survival and livelihood. These initiatives have directly supported the operationalisation of the The Rwanda National Food and Nutrition Policy (2014) and District Plan to Eliminate Malnutrition.
On the other hand, the national report on health and nutrition still indicates persistant or chronic malnutrition and starvation among certain groups. The agricultural development programs thus comes in to boost production to increase availability and access to nutritius foods consisting of proteins, carbohydrates and vegetable with innovative techniques.
Core objective:
To address food insecurity, unemployment and promote peace and justice among local communities by implementing modern agricultural development projects that enable women, men and youths to work together in all areas of our mandate.
Sub-Objectives:
Boost food production through local engagement in production and processing.
Position Agriculture as a lucrative Business for food security, nutrition and social economic development.
Maximise the church asset base of land and small spaces for higher productivity using smart and affordable agricultural technologies.
Adopt modern and affordable agri-technologies to maximize space and ensure higher productivity per capita.
Promote peace and justice through development and spaces for men, women and youths to work together.
Main Activities:
Mobilise key stakeholders for joint planning, implementation and monitoring.
Mobilize community dwellers/ farmers for program ownership and labor force.
Train and share knowledge and provide supportive supervision throughput- agricultural program cycle.
Purchase and use affordable/ modern technologies to maximise spaces and address climate challenges.
Engage in business development for agricultural financing, value addition and market expansion.
Set up demonstration farms to train people on maximizing small spaces with innovative measures, and learning centers for knowledge translation and mind-set change.
Work with excellence to position the area/region as an agri- touristic site and an agriculture hub.
Scope/ Coverage:
Agricultural Development programs in Butare Diocese shall be implemented in all the 26 parishes. These parishes serve an estimted population of about 381,900(2022 census)[2] in Huye (Southern Province of Rwanda). The Demonstration farm for training will be in Save in Gisagara District. The aim of the demonstration sites shall be for visibility and hands on skills training on smart technologies and innovations in Agriculture.
Approach:
All agricultural programs shall be developed and implemented in collaboration or partnerships and community participation at the heart.
Community Participatory approach
This is a means of social investment and our priority is to instill a sense of program ownership, security of the farms and labor support throughout production to the market, and consumption.
Partnership and collaborative approach:
Critical Partners like the Rwanda Agricultural and Animal Resources Development Board, Caritas Rwanda, Catholic Relief International, District government Agricultural extension officers shall be involved in the planning, implementation, monitoring as according to existing regulatory guidelines. The extension officers are well positioned to provide agricultural knowledge and continued supervision to community farmers.
Baseline Assessment.
Upon implementation of an Environmental Impact Assessment (EIA) inclusive of soil testing and most viable area crops, the leadership shall employ a mixture of conventional practices on virgin lands and Smart- Agriculture techniques in Aqua/hydra culture using greenhouse technologies.
Projects Resources.
| | | |
| --- | --- | --- |
| Inputs | Process | Outputs |
| Human Resources | Knowledge and Labour | Marketing, Value Addition |
| Assets (land, tools, solar driers, machinery) | Labour | Post Harvest handling |
| Natural Weather (rain), under ground and surface water harvesting | Irrigation and watering of farms | |
| Soil Inputs- seeds, fertilizers | Fertility and PH balancing | |
| Funds (money) | Purchase equipments, tools, and expertise personal | |
| Knowledge/Documents | Print and distribute- project lifecycle brochures, | Informed and happy farmers and collaborators. |
Recommended Agricultural farm feeds
Soya beans.
Corn
Maize
White meat (chicken, rabbits)
Animal Husbandry (cows, pigs and goats)
Green Houses ( Vegetables- tomatoes, sweet paper,Fish,Fruits)
Value Addition:
Food processing and packaging: The leaders shall partner with area industries/millers to support on the value addition criteria for a higher profit.
Tap into existing private sector entities to produce Fortified Blended Foods (FBF) to complementary nutrition (2021)[3]
Market scope:
Internal consumption by schools- secondary and primary , churches,hotels and restaurants.
Food stores.
Catholic Universities.
Partnerships:
The Private Sector is currently engaged in fighting of malnutrition where a Fortified Blended Foods (FBF) project is operational in Rwanda and is producing the complementary food for children, pregnant and lactating women(2021)[4].
Financial Requirements.
For a successful implementation of the proposed agriculture programs direct financial support is a basic. Likewise, in-kind support in the form of technical advising, donation of agri- tools, and seeds from respected parties like the government of Rwanda, Foreign funders, partners, CBOs, and private sector investors are all welcome. Some financial sources could be:-
1. Direct funding from the Rwandan Development Board- Agriculture;
2. Proposal writing for grants support;
3. Green Loans for Agriculture;
4. Resource mobilization from church cycles- develoment Unit.
Monitoring and Implementation plan.
A selected committee shall be responsible for the monitoring and evaluation criteria. It shall consist of government, church and local focal personnel.
Or Available government structure from district to parish and then village level.
Social Impact.
Empower communities through education and hands-on skilling on modern Agricultural methods to boost productivity for higher crop and animal yields and ability to copy and operate independently.
Sustainability.
The agri-development programs shall leverage on existing assets like land, human capital (local farmers) and affordable smart technologies. Ideally, this program should be self-sustaining from the sale of Agricultural Produce.
Opportunities:
Investment and use of energy alternatives like solar equipment for production.
Agricultural industrial boost for value Addition.
Increase tax income as a result of agricultural productivity.
Human capital development and improved social livelihood.
Road Map and Budget Summary[3] .
Program Phases
Budget Item
% of Budget
Description
Amount in Local Currency
Amount in USD[4] ($)
Phase 1
Planning and Budgeting
2%
Overaching idea plan. General Proposal and concept note
2000
Rapid site Assessment/ visits.
Travel and interviews
800
General Proposal and concept development ,E.I. A, Road Map.
2000
Phase 2
Resource mobilizations
(i) Aquisation of seeds for the september planting season from partners. (ii) Mobilization of agricultural extension officers for advising and supervision of agri- methods.
4000
Training Workshops (Talks)
–
For community leaders and lead farmers
2000
Implementation of Traditional farming in fertile sites for the september 2023- Rain Season.
–
Transportation of seeds; Construction of irrigation water pumps wher needed
10,000
Phase 3
Proposal Development for Demostration farms- Fish Farming, white meat and Vegetables
–
Demonstration farms using Smart Agri-technology for maximising small spaces- Aqua/Hydro-culture (3)
2000
Phase 5
Project Farm Equipments- Structure
Green Houses & transportation Solar dryers Cleaning/ sorting machines
100,000
Project Office Equipment
Computers, printers, internet
4,000
Platforms for information sharing
Website/ social media platforms. Community radios
2000
Operational Costs
Operational costs (Travel fuel, Repairs, Stationary)
6000
Total
250,000[5]
---
[1] https://www.statistics.gov.rw/statistical-publications/subject/population-size-and-population-characteristics
[2] http://citypopulation.de/en/rwanda/admin/sud/24__huye/
[3] https://www.moh.gov.rw/publications
[4] https://www.moh.gov.rw/publications
---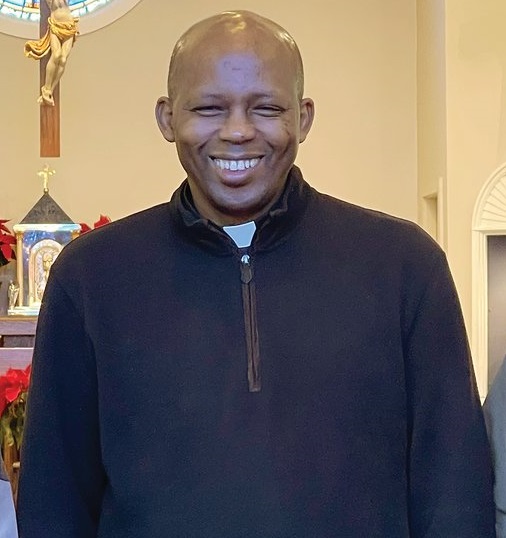 Rev Fr. Emmanuel Rutangusa (IN CHARGE OF DEVELOPMENT BUTARE DIOCESE)