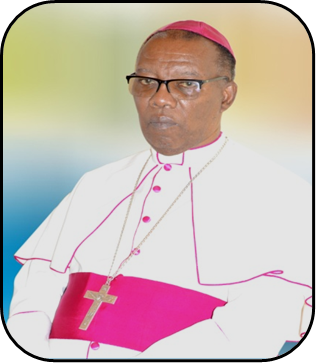 Bishop Philippe Rukamba was born on 26 May 1948 in Rwinkwavu, Zaza parish, Diocese of KIBUNGO, baptized on May 29, 1948 and ordained a priest on June 2, 1974. He was named 2nd Bishop of the Episcopal See of Roman-Catholic-Diocese-of-Butare.
Bishop Philippe Rukamba was appointed on 02/18/1997 by Pope John – Paul II to succeed Bishop Jean – Baptiste GAHAMANYI at the episcopal see of Butare. He was born on May 26, 1948 from a Christian family in Rwinkwavu, in the current Kayonza District, in the east of Rwanda (former Kibungo Prefecture) and was baptized on May 29, 1948.
He did his primary education successively in Rwinkwavu, Rulindo, Rwamagana and Zaza. In 1961, he was admitted to the Minor Seminary of Kabgayi. In 1965, he entered the Saint Paul Seminary in Kigali to complete his Greco-Latin humanities. On September 14, 1968, he entered the Major Seminary of Nyakibanda to follow philosophical and theological training.
Appointed Bishop on January 18, 1997, he was ordained bishop on April 12, 1997 by Bishop Joseph SIBOMANA in the Our Lady of Wisdom Cathedral, Butare. He was assisted by Bishop Jean – Baptiste GAHAMANYI and Bishop Frédéric RUBWEJANGA.
His episcopal motto is "Considerate Iesum". He worked particularly hard to rebuild the Diocese, which had been greatly shaken by the dramatic events caused by the war and especially the 1994 genocide perpetrated against the Tutsi. He collaborated with two Vicars General: Msgr. Félicien MUBILIGI until 2002, and Msgr Jean Marie Vianney GAHIZI still in office. As we celebrate his Silver Jubilee, he founded seven (7) parishes: Busoro in 1998, Byiza in 2002, Gikore and Magi in 2004, Mbazi in 2008, Kibilizi in 2010 and Kirarambogo in July 2012. The Catholic Diocese of Butare has already gone from 19 to 26 parishes.
Msgr. Philippe Rukamba, at the 71, has been at the helm of the episcopal conference since 2015, when he took over from Monsignor Smaragde Mbonyintege, the Bishop of Kabgayi Diocese in central Rwanda. Kabgayi is essentially the seat of the Church
Son-Excellence-Msgr-Philippe-final
Download